For stud services & semen shipping, please contact us to make arrangements.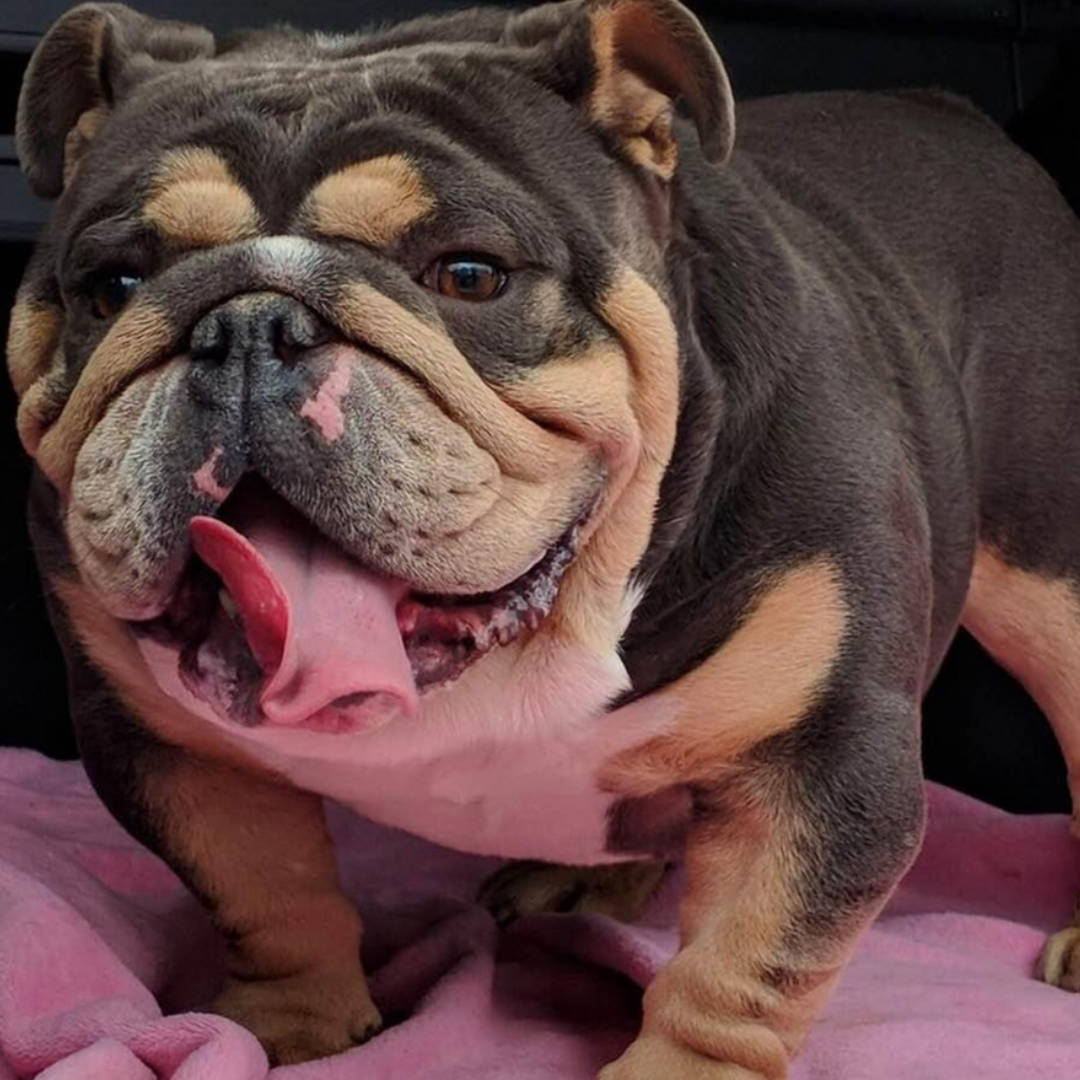 This is our boy Pablo. Pablo is a fully suited, blue tri, mini English Bulldog. Son of California Chrome, he is famously known worldwide for his handsome looks, size and structure. Weighing in at 22kg, Pablo is known for producing beautiful mini english bulldogs when paired with the right Dam.
Pablo has been at the ranch since day 1, and has played a massive part along our journey, being the best mascot a team could ask for! He has an amazing personality, most definitely a boss here at the ranch, even though he is the smallest out of all of the boys. An extremely happy dog and knows how to get what he wants.
Details:
Weight: 22kg
Back Length: 47cm
Leg Height: 24cm
Body Girth: 76cm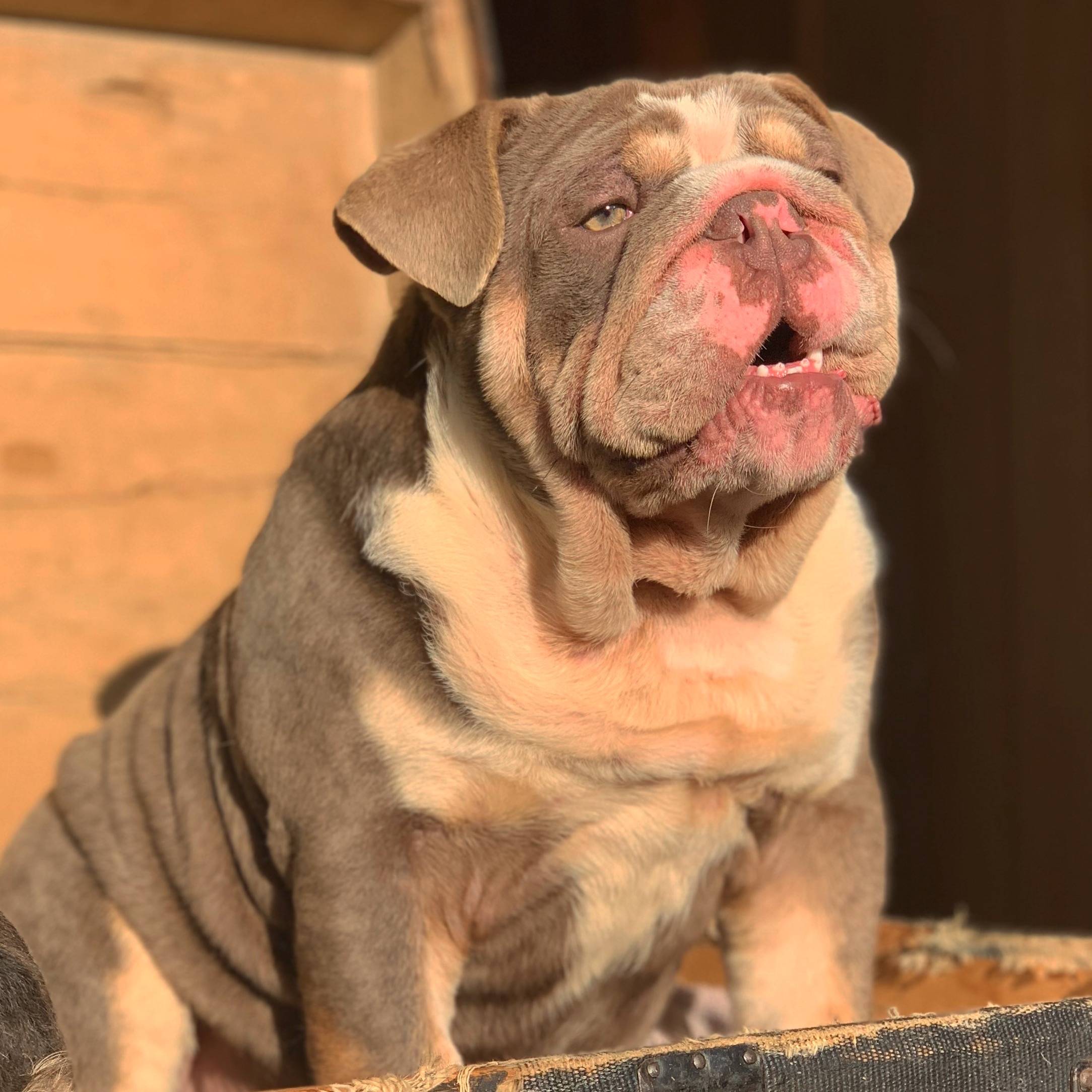 Lotto is another one of our beloved boys here at The Bully Ranch. Lotto is a lilac tri English Bulldog. Son of Sonny, grandson of the late Pumba, 5x Ace in The Hole Shrinkable Legacy. Lotto weighs 33kg and has sired some of the most premium pups that we have produced to date!
Lotto has a massive personality, he is very mischievous and also very comical. A typical English Bull Dog, Lotto loves attention and interacting with humans.
Details:
Weight: 33kg
Back Length: 49cm
Leg Height: 26cm
Body Girth: 80cm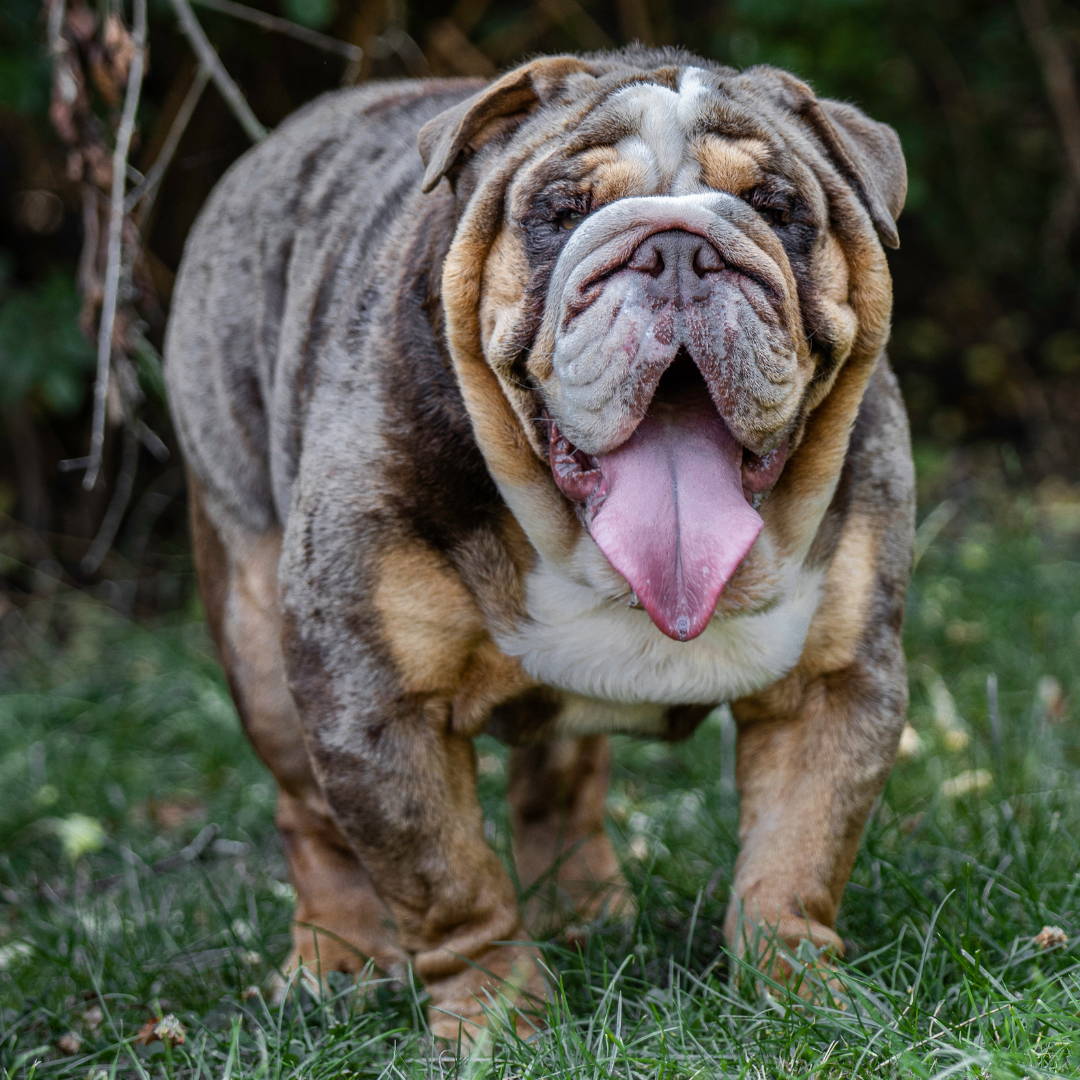 Huncho is another one of our great boys here at the ranch, son of Ace the Face. Huncho is a chocolate tri merle English Bulldog. He is 36kg, and is renowned for throwing his bone structure, rolls and unbelievably wrinkly over-done looks to all of his offspring.
Huncho is an incredibly gentle dog, he loves affection and takes very well to the elderly and young children especially. One of the most well behaved dogs here at the ranch. A joy to be around, what we would call a beautiful soul. One thing we notice, not only does Huncho throw his thick bone rope & rolls, he also passes his gentle, loving traits onto all of his offspring.
Details:
Weight: 36kg
Back Length: 53cm
Leg Height: 28cm
Body Girth: 83cm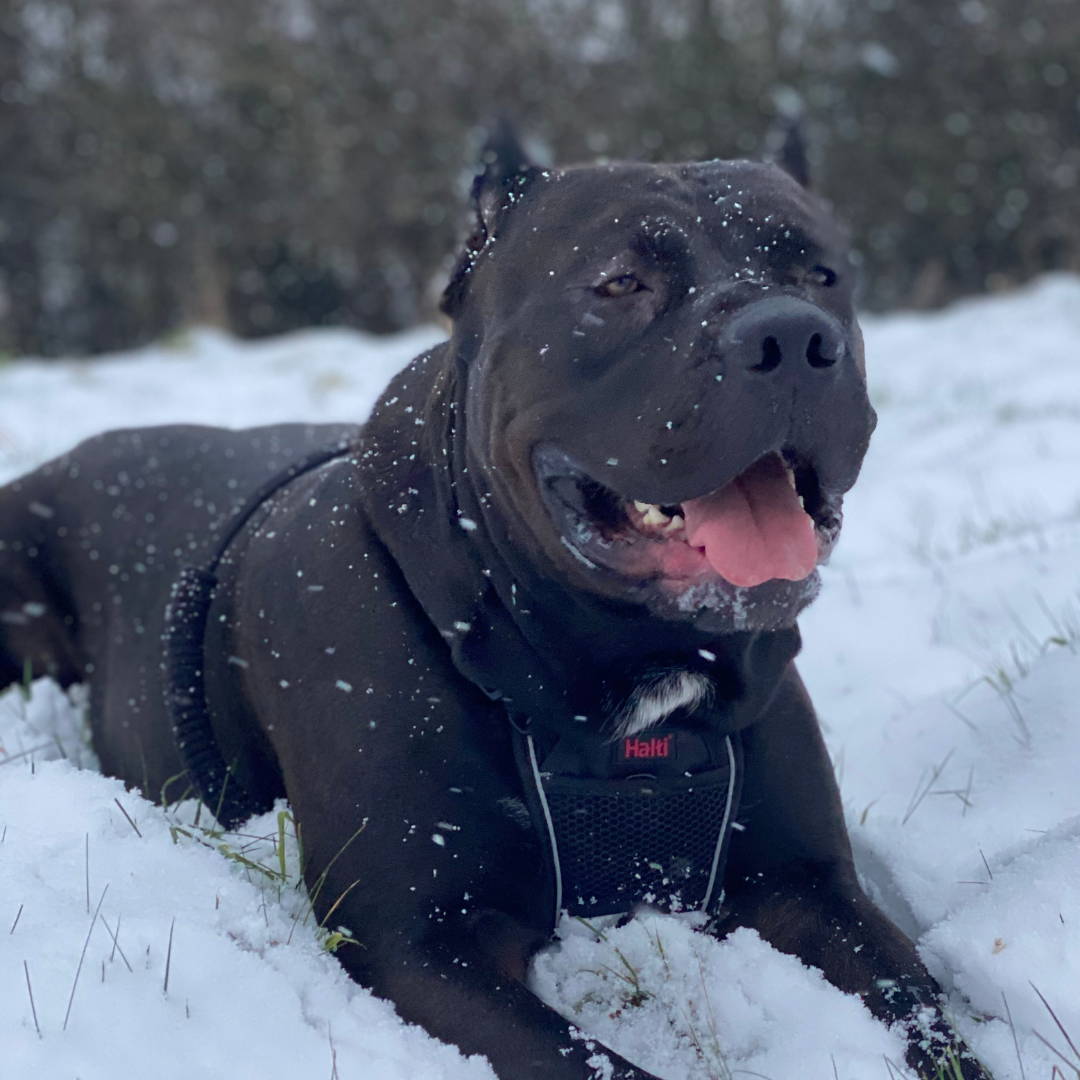 Luger is our incredible XL American Bully here at the ranch. A proud son of Biggie, Luger is known for his beastly size, docile temperament, and loyal protection instincts. A juggernaut of an animal, Luger weighs 76kg, an all round athletic and sporting dog. Soon to be producing some quality puppies.
Luger is also another massive character here at the ranch. Extremely playful, Luger thrives on consistent routine and exercise. The best way to his heart is through his stomach, a boy this big consumes a lot of food.
Details:
Weight: 76kg
Back Length: 90cm
Leg Height: 50cm
Body Girth: 89cm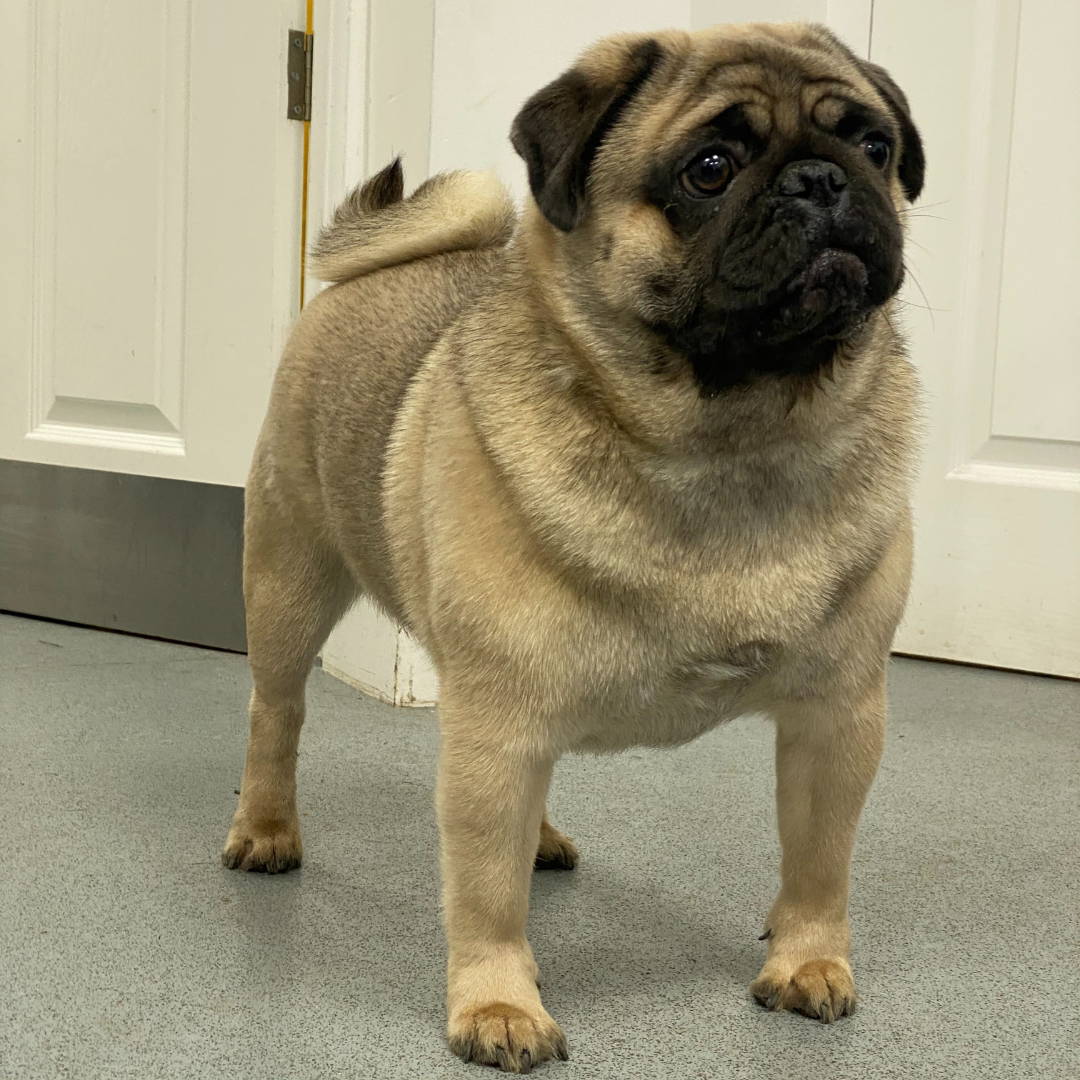 This is our boy Q. Q is a blue fawn pug, carrying chocolate and tan. We believe he is one of the most true-to-type rare coloured pugs on the planet, most definitely of show quality, a big statement when speaking about rare coloured pugs. He is a son of Jake, another one of our premium Pug Sires here at the ranch. Everything about this boy is correct, with thick bone; perfect structure and a lush coat, we expect him to stamp all of his puppies with this remarkable quality. Q is of easternite championship bloodlines, one of the most prolific Pug bloodlines around the world.
Like all Pugs, Q is very charismatic, he stands proud and knows his worth. An all round great companion.
Details:
Weight: 13kg
Back Length: 38cm
Leg Height: 10cm
Body Girth: 24cm