THE ULTIMATE TEAM BONDING FOR YOUR BUSINESS
Are you looking for a way to reward your staff and look after their mental health whilst at work? Our puppy therapy service works wonders for busy workplaces. Interacting with our playful pups has been proven to have a positive effect on mental health in humans.
Many employees do not take enough breaks throughout their day, which can increase stress levels and reduce motivation. Stepping away from the desk and spending quality time with The Bully Ranch pups will help calm and relax employees, leading to improved productivity and enthusiasm in the workplace.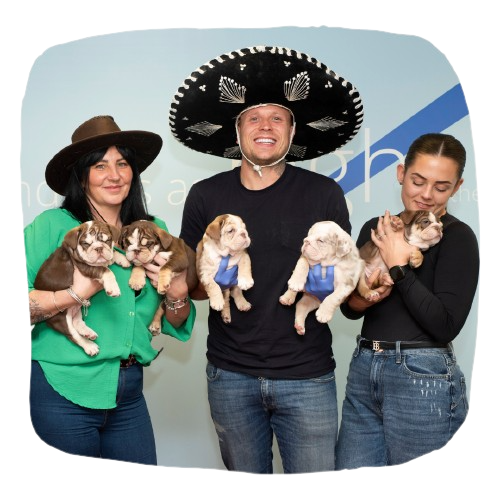 BENEFITS FOR ALL INVOLVED
Taking part in puppy therapy plays an especially important role when it comes to improving our puppy's socialisation and personal development. Human interaction as simple as stroking leaves our puppies feeling loved and adored. You will be able to interact with the puppies and go back to your desk feeling calm and relaxed after one of our puppy therapy sessions.
INTERESTED IN HOSTING AN UNFORGETTABLE PUPPY EXPERIENCE?
COMPLETE THE FORM BELOW AND WE'LL REACH OUT AS SOON AS WE CAN!